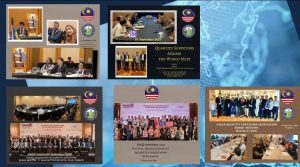 20th September 2022
The global world today is highly connected and information-rich. It gives us, not only, amazing opportunities to engage with surveyors from across the nations but also a more open-minded approach to the world around us.
Global collaboration allows the Institution and surveyors to ride on the trend of the times which will benefit us all as we tap into each other's combined expertise and capabilities in different areas.
As an organization that represents surveyors of 4 disciplines, and, that of emerging young professionals RISM's Vision, as stated in the constitution, is to be a world-class professional institution and a centre of excellence in surveying and related services.
Thus, RISM reaffirms the importance of international relations with the spirit of cooperation to build intellectual capital for its members and for nation building in general
As such, the Royal Institution of Surveyors Malaysia (RISM) keeps itself well-positioned in the face of this dynamic international trends through its active participation in international worldwide associations including AFLAG, AQSA, AVA, CASLE, FIABCI, FIG, ICEC, PAQS
Sr Dainna Baharuddin, CQS, FRISM, FRICS
President
Royal Institution of Surveyors Malaysia
Session 2022/2023