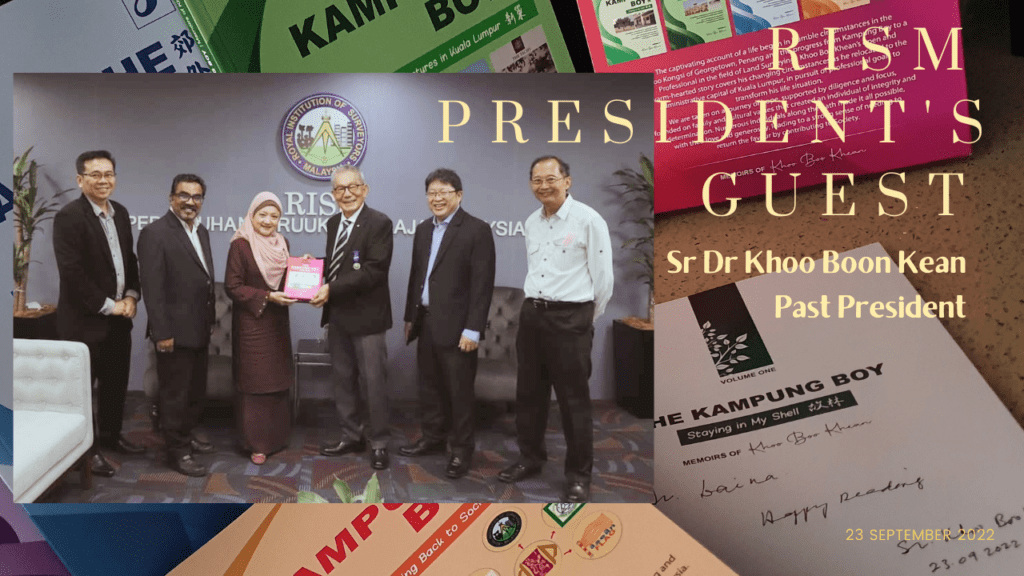 14th October 2022
Everything has a history
Sr Dr. Khoo Boo Khean, PPRISM at his recent visit shared with us stories from RISM's past and also his memoirs in 'The Kampung Boy'
Of special interest is the history of our Bangunan Juruukur in New Town Petaling Jaya from mid-60s to 1977. He wrote
"As the Chief Surveyor of PKNS, I managed to get the Selangor State Government to allocate the 2 plots of shop lots in the New Town, Petaling Jaya through PKNS of course.
The Chairman of the (RISM) Building Committee was the late Sr Kok Swee Tuck, supported enthusiastically by the late Sr A.B.Marbeck, the late Sr Nicholas Chong, a QS from Langdon Every & Siah and my good self.
We tried to raise funds for the building by selling bricks to members. However, it was turned down at the Annual General Meeting, citing that it was an arm-twisting exercise, hence not an appropriate way of fundraising. We came out with an alternative idea of imposing a building fund levy on each and every Fellow (RM600.00) and Member (RM400.00) by monthly instalments over three years. The General Body approved our plan but the funds were dropping in slowly while the building cost was getting higher each day. Fortunately, Tan Sri Dato' Sr (Dr.) Abdul Rahim Abdul Rahman was a member of the building committee and he secured a RM400,000 loan for RISM from Bank Bumiputra where he worked.
The Building Committee wasted no more time and put into action through collaboration with the Institution of Engineers on the left and a private owner of the 2 plots on the right of the present RISM Headquarters. The foundation stone was laid by the Minister of Land and Mines Dato' Mohd Asri Hj Muda on 19 June 1976 and was declared open by Senator Rafidah Aziz on 14 October 1977."
Sr Dr. Khoo Boo Khean
The Malaysian Surveyor Vol. 55 No. 1 - 2020
The first issue of our professional journal the 'Surveyors Quarterly Gazette' was dispatched to members on 23rd January 1965. In 1971 the name was changed to 'The Surveyor' and again in 1999 to 'The Malaysian Surveyor'. The Malaysian Surveyor and RISM International Surveying Research Journal (ISrJ) are available on RISM website https://rism.org.my
Bangunan Juruukur and The Malaysian Surveyor are the realisation on how different our past decision makers' lived experiences from us, yet we are similar in our goals to continually establish a memorable identity and branding for Surveyors in the society and industry.
Sr Dainna Baharuddin, CQS, FRISM, FRICS
President
Royal Institution of Surveyors Malaysia
Session 2022/2023